Skip to Content
Motorized Blinds & Shades by Price Blinds in Fredericksburg, VA
Upgrade to Latest Innovations in Wireless Motorized Blinds and Shades
Your windows can be the best feature in your home, providing natural light and beautiful views. However, they can also let in too much warmth and interfere with your privacy if they're not covered. How can you make the most of your windows while also being able to easily shut out the world or bright light when that's what is required? The solution is easy: cover your windows with motorized shades.
Remote control window blinds have long been convenient window covering. However, modern blinds for windows are more innovative than ever. Smart home technology has transformed motorized vertical blinds and shades, making them more intuitive and easier to use, and facilitating benefits you may never have imagined.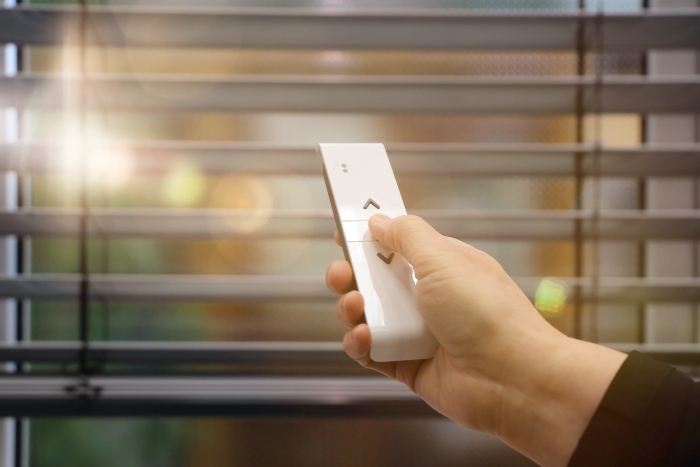 Here are five good reasons to make the jump to motorized shades.
1. You can have blinds that move with the changing sun.
Smart window coverings provide a sense of freedom, as you no longer have to go from window to window to manually lower and lower blinds and shades. Instead, you simply press a button to control the window coverings throughout your home. But what if they could adjust automatically? Now they can. There are now smart blinds that have a natural light optimization feature. As the sun moves through the sky, the blinds change positions to protect against fade or allow for maximum viewing. With no effort on your part, your home is kept beautiful and protected all day long.
2. Your electrical blinds can be powered by batteries.
In some cases, particularly with new home construction, hardwired window coverings are the perfect solution. However, if you don't want to tear out your drywall or disturb your home's design, this might not be the right option for you. Fortunately, wireless solutions offer the ease of motorized blinds with none of the hassle of electrical installation. Currently, about 19 per cent of all motorize shades are battery-powered.
3. Beautiful styles and superior service make motorized blinds more popular than ever.
In the past, automated shades have often been complicated and difficult to install. Today's motorized shades and blinds come in a wide array of styles and are not only easier to install but also thoughtfully designed. No matter what your décor may be, this ultra-modern technology will blend in seamlessly with no messy wires, connectors, or screws visible.
4. Motorized blinds can offer you the benefits of reduced energy and increased comfort.
When sunlight streams into a room, it makes a home feel inviting and energizes the inhabitants. Sun plays into our natural circadian rhythms and boosts our well-being since serotonin and vitamin D are generated when we're exposed to the sun's rays. Unfortunately, we have to balance the benefits of allowing natural light into the home with the increased energy costs a room overheated by the sun can generate. Smart sun shades allow you to easily control the amount of sunlight that comes into the room, cutting your utility costs and increasing your comfort.
5. Beauty that brings benefit is a winning combination.
When you're shopping for window coverings, you will of course be looking for something aesthetically pleasing that adds style to your home. The great thing about motorized window treatments is that they mesh fashion and technology for a beautiful look, intuitive controls, and innovative technology.
Do you need another reason? We've got one, especially for parents. Motorized window shades provide child safety benefits at home. While traditional, non-motorized shades pose a safety hazard, often with cords dangling where children can reach them, motorized shades eliminate these cords, eliminating the possibility of strangulation. These shades also offer other safety features, like devices that keep the shades in place, even when kids try to move them, and internal cords that are kept in place with cord stops so they don't slip through the louvers.  In fact, many of the motorized blinds carried by Price Blinds have earned the Best for Kids™ Certification.
When you're ready for motorized shades, shop with a window treatment company that cares. A family-owned company, Price Blinds has been serving the Fredericksburg area for 25 years, providing high-quality custom shutters, window blinds, shades, solar shades for windows, and other window treatments. We're proud to carry products custom-made by leading manufacturers, and our focus is on providing personalized service to each of our customers. In addition to providing free in-home design consultations and window measuring, expert installation, and window treatment cleaning and repair, we also offer financing options to help our customers get what they need.
For a fully customized shopping experience and great service the next time you're buying window coverings, call 703-520-6458 or contact us through our website today.
Give Us a Call Today for Your Free Design Consultation