Skip to Content
Custom Drapery for Your Fredericksburg Home
You'll find the most stylish and elegant custom draperies and sliding panels for your Fredericksburg home or office at Price Blinds. We offer custom window treatments from the best name brands, including beautiful drapery styles in hundreds of contemporary designer fabrics.
All of our custom draperies and sliding panels are hand-crafted to fit your windows and patio doors. Instead of purchasing department store products, you can transform the look of any room with our custom draperies.
Give our shutter company a phone call today to see our beautiful selection of custom draperies and sliding panels products. We can make an appointment with you for a free in-home consultation so that you can compare styles in the comfort of your home or place of business.


Expert Measuring & Installation

Motorized Draperies and Sliding Panels

Custom Window Treatments at Wholesale Prices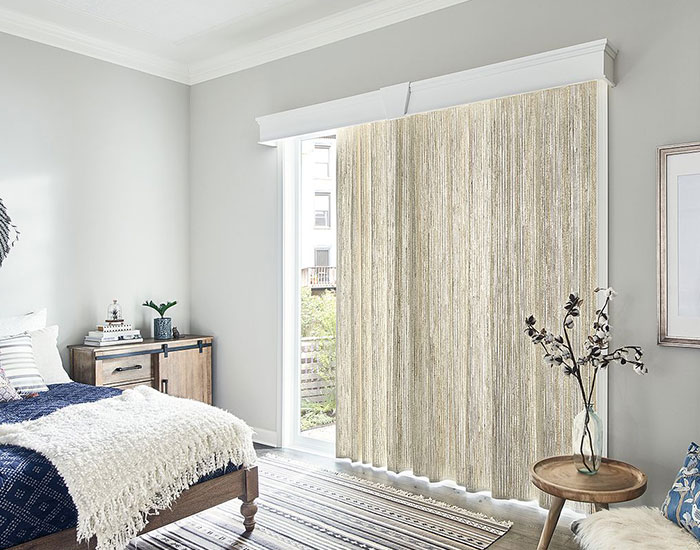 Drapery Styles and Energy Efficient Solutions
Sheer draperies can help to control light as it filters into a room. They're best suited to pair with thicker drapery so that you can leave them closed for light filtering purposes. We can help you find the beautiful modern sheer fabric drapes that will fill the room in soft, colored light.
The blackout draperies can be motorized and installed on a sliding track system. With this system, the Blackout Drapes will do the best job of covering the windows.
Full-length, lined drapes will insulate and increase the energy efficiency of your home. They're the best solution for drafty windows where heat loss or direct sunlight exposure is a problem.
Sliding Panels in Contemporary Styles
Do you need a different solution than standard window treatments for your sliding glass doors, patio doors, or broad expanses of fixed glass? We suggest considering sliding panels for these areas of your home. They're also an excellent solution for executive offices, medical clinics, business offices, and other commercial settings.
Sliding panels are very similar to drapes but have wide strips of stiff fabric that turn and fold together as you open them. The thicker fabric panels give the room a crisp, clean, contemporary style.
Solar Screen Sliding Panels
Motorized Sliding Panels
Designer Sliding Panels
Remote Controlled Panels
You can ask us to motorize the sliding panels if you like. That way, you can open and close them using a handheld remote, your smartphone, or a pre-programmed setting that automatically controls them whether you're home or away on vacation.
Our design specialist can help you choose from our wide selection of contemporary sliding panels and other drapery products. We install them for you and can motorize them if you like.
Give Us a Call Today for Your Free Design Consultation