Skip to Content
Custom Draperies in Fredericksburg, VA
Why Invest in Custom Curtains and Draperies
Investing in custom curtains and drapes lets you pick every last detail of your window treatment design. You can choose every element carefully to ensure it complements your interior design and meets your personal aesthetics and standards. At Price Blinds, we have years of experience designing and installing custom draperies in Fredericksburg, VA. We offer free in-home design consultations and are happy to show you samples of our products and walk you through our portfolio of completed work. We can discuss your needs and goals, evaluate your space and interior design, and help you customize your curtains and draperies to bring your vision of home beauty to life. Call us today to schedule a free consultation or request an estimate for custom window drapery.
Benefits of Custom Window Drapery
Window drapery might sound old-fashioned, but curtains and draperies are still in style today. You have your pick of sizes, materials, styles, designs, and brands, so it's easy to put the finishing touches on your interior design by choosing the perfect dining room, bedroom, or living room draperies. Curtains and draperies have been popular for centuries because of the benefits they offer homeowners: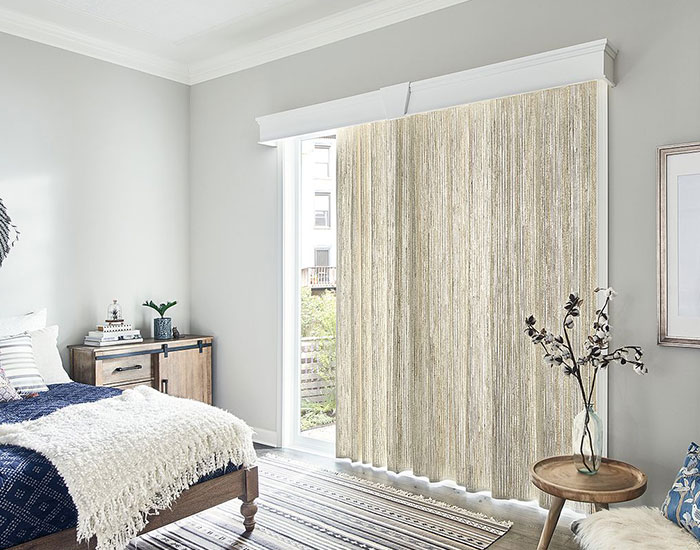 Increased light filtering and privacy options depending on the material and style chosen.
Fully customizable levels of natural light.
Thousands of possibilities for fabrics, designs, colors, and styles, so it's easy to find ones that enhance the beauty of your home's interior decor.
Simple to install, easy to clean, and long-lasting.
Can be switched out for new options easily if your tastes or interior design changes.
Improve sleep quality by blocking out sunlight.
Insulate windows and improve their energy efficiency.
Reduce UV exposure and fading of carpeting, artwork, upholstery, and more.
Sound absorbing and noise insulating.
Transforms and finishes each room's interior design.
Common Curtain and Drapery Styles
With so many options for window treatments, it's easy to feel confused or overwhelmed about where to start. Our design consultation team can show you examples in our portfolio and samples of fabrics and materials to help you make your choice. These are the most common and popular curtain and drapery styles:
Sheer panels – Sheer panels offer some light control and privacy without completely sacrificing natural light. They can also be layered with window shades to increase privacy and light filtering options. Sheer panels are light materials that offer an airy ambiance and an elevated yet casual appearance. They are available in almost any color, design, and size and are typically made from linen, cotton, or a gauzy material.
Cafe curtains – Cafe curtains are casual and quaint. They are installed on one half of a window to provide privacy without sacrificing light. They are often installed in kitchens and bathrooms. They are available in almost any design, fabric, color, and material.
Pleated curtains and draperies – Pleated curtains are classic and elegant but may be overwhelming for some rooms. They create a focal point and break up the room's interior design. There are many different types of pleats to choose from: pinch pleat, Euro pleated, French pleat, and ripple fold are just some examples. Pleated curtains and draperies come in thousands of colors, designs, fabrics, sizes, and materials.
Knotted curtains – Knotted curtains are a more modern alternative to pleated curtains. They also create a focal point and interrupt the monotony of the room but aren't as harsh or heavy as pleated curtains. They are tied at the top or bottom to create an airy, breezy feel.
Rod pocket curtains – Rod pocket curtains and draperies are designed to hide the curtain rod from view. This creates cleaner lines and avoids distractions created by curtain hardware. For instance, using a white curtain rod and white pocket curtains on a white wall may make the space seem bigger and brighter by distracting from the delineation of the window frames.
Cornic-clad curtains – Cornic-clad curtains are old-fashioned and work best with a farmhouse or shabby-chic interior design. They consist of an upholstered cornice that matches the fabric or design of the curtain material. It is installed at the top of the curtain to hide window treatment hardware and reduce light seepage.
Our Custom Drapery Installation Process
We begin each custom drapery job with a complimentary in-home design consultation. We will assess your space and understand your aesthetic and design preferences. We can show you our portfolio and provide samples of our fabrics and materials. Our goal is to guide you through selecting custom drapes so that it isn't overwhelming or stressful. Once you have made your selection, we will measure your windows. All window treatments are custom-cut and designed to your measurements and specifications. Our experienced installation team offers precise, professional installation and ensures everything is completed satisfactorily. When we're finished, we'll offer curtain and drapery cleaning tips and care.
Care and Maintenance of Drapery Fabric
In addition to professional design consultations and installation services, we offer window treatment care and maintenance. Proper care and maintenance can preserve the beauty and extend the lifespan of your drapery fabric. Follow these tips for drapery cleaning and care:
Check the care label on your curtains and drapes and follow the instructions carefully. Contact the installer or manufacturer for advice if there is no care label.
Vacuum or dust your draperies every few weeks to prevent stains and damage. Use the brush attachment on your vacuum cleaner on a low setting to gently remove dirt and dust without damaging the fabric. You can also use a clean, dry microfiber cloth to brush off dust.
Check the hemline of curtains or drapes, as this is often the first area to show signs of dirt, stains, dust, and wear and tear.
Take your curtains and draperies down at least once a year for a thorough, deep cleaning. Some materials can be washed in the washing machine gently and then hung outside to dry. You may need to steam or iron them on a low setting to return them to their original shape. Other materials will need to be dry cleaned, steam cleaned, or spot cleaned to preserve the condition and beauty of the material.
If you aren't sure how to clean your curtains and draperies, don't have the right equipment, or don't have time, we can help. We offer professional drapery cleaning, service, and repair.
Schedule a Consultation for Custom Drapery Installation
If you're ready to transform your home's interior design and increase your privacy and comfort, call us today or contact us online. We will schedule a free in-home design consultation for custom curtains and draperies. We'll work closely with you to evaluate your interior design, identify your needs and goals, and find options that meet your budget.
Give Us a Call Today for Your Free Design Consultation