Skip to Content
YOUR TRUSTED WINDOW BLIND COMPANY IN FREDERICKSBURG, VA
Our Fredericksburg window blind company, Price Blinds, specializes in sales and installation of a wide variety of durable and beautiful woven wood blinds, mini-blinds, metal blinds, and other custom window blinds. Since 1999, the team at our window treatment company has been thrilled to help each customer to hand-select the perfect window blinds that are right for their particular space, budget, and goals.
Choosing from among all the different woven wood blinds, wood blinds, faux-wood blinds, mini-blinds, metal blinds, and other window blinds isn't always easy. Since there are hundreds of different ways you can customize them to go with your decor, we offer a personalized design consultation so that you can get advice.
Give our Fredericksburg window blind company a call today if you'd like to see our wood blinds and other styles up close!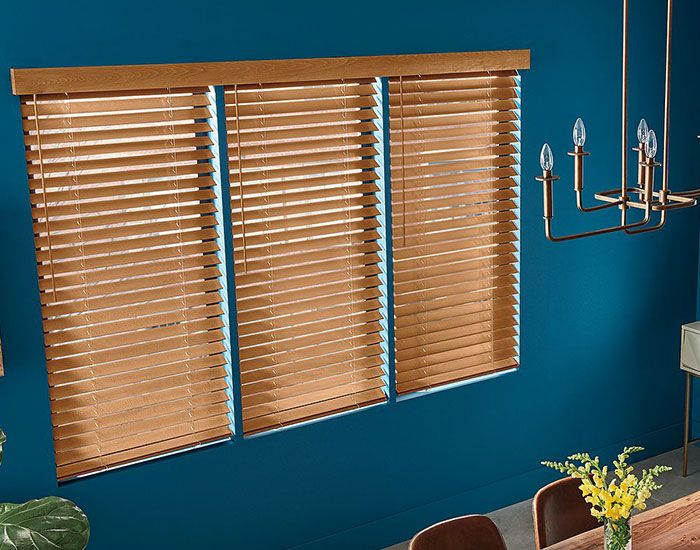 Wood Blinds
We can offer some of the best products in the industry. The wood blinds offer traditional styling and rich stains to go with your decor. The durability and beauty of our wood blinds create a warm and inviting home. They come in a wide of finishes. You can choose from three slat sizes.
Faux Wood Blinds
Our faux-wood blinds provide fantastic performance. This smart alternative to wood blinds has classic good looks that don't age. Available in realistic finishes or a large selection of solid colors, and with operating and decorative upgrades available.
Get the classic look of wood blinds without the worry over aging. They offer the convenience and easy-care of advanced modern-day materials. Plus, the finish comes in a wide range of solid colors. You can also choose different operating and decorative features, such as motorization. They're guaranteed not to fade, yellow, warp or bow, making them an excellent choice for bathroom or rooms with full sunlight exposure.
Mini Blinds
Our mini blinds are very durable, available in an array of finishes, and will perfectly complement any interior design style you own. Enjoy special finishes and textures, from metallic to pearlescent to matte, and a range of attractive hues.
The sleek, thin aluminum slats of our mini blinds offer maximum light control and a clean, uncluttered look for any room. Enjoy special finishes and textures, from metallic to pearlescent to matte, and a range of attractive hues. Pair the metal mini blinds with real wood accents for a striking and unique horizontal style. You can mix and match colors to create an original look that fits your home decor.
Slat Sizes: 1/2″
Widths: 7 – 144″
Heights: 6″ – 126″
Vinyl Blinds
Our vinyl blinds are durable to last through regular, everyday use. They're the perfect solution for high traffic areas or commercial settings such as in offices or restaurants. Some of the synthetic blinds we carry include those of hybrid composite material. The manufacturer combines real wood with modern-day vinyl or poly-vinyl materials so that they're very durable and extremely appealing. Polysatin compounds in our collection allow the manufacturer to offer warranties that guarantee the blinds won't fade, warp, crack, peel, chip, or discolor.
Options in stains allow you to choose vinyl blinds that go well with your decor. Whether you want synthetic blinds for your business or your home, we offer the styles you would love.
Aluminum Blinds
Aluminum Blinds create a clean, uncluttered look. The metallic, pearlescent, and matte finish styles are available in a range of beautiful colors. Contoured and beveled headrails are available on some of the metal styles. You can also add Motorization to give you remote operation. The design hides cord holes and blocks light much more efficiently.
Give Us a Call Today for Your Free Design Consultation