Skip to Content
Wood Shutters Installation in Fredericksburg, VA
Natural Wood Shutters
Showcase timeless elegance and a rustic flare in your Fredericksburg, VA home with Price Blinds and our interior wood shutters. Combining functionality, beauty, and an array of advantages that elevate the value of your home, our custom wood shutters are a classic addition that redefines window treatments, creating a warm, inviting, and comfortable atmosphere.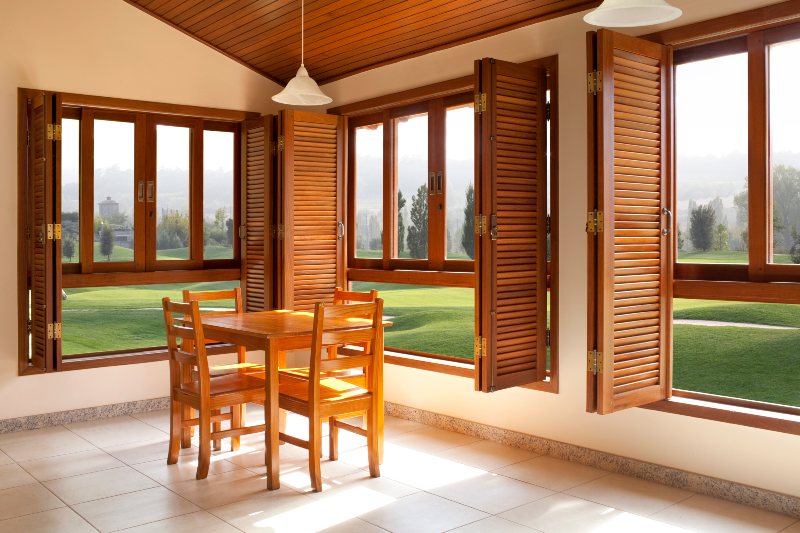 Understanding Wood Shutters
Wood shutters are the perfect solution when you want a warm, natural, and elegant window treatment. Made from superior quality hardwood, these sophisticated window additions come equipped with adjustable louvers that enable you to control the privacy and light of your space while boasting a natural charm that sets the ambiance of your home.
A Timeless Wood Shutters Investment
Natural wood shutters are a timeless investment that elevates property value while boasting practical benefits that create a more comfortable living space. Made with premium hardwood, wood shutters are built to last, offering incredible durability and performance while contributing insulating advantages that regulate your home's temperature and improve energy efficiency.
The Benefits of Wood Shutters
Wood shutters installation is an excellent way to bring many benefits into your home, including the following:
Cost-effective and long-lasting
Improved insulation
Energy-efficient, helping you regulate your home's temperature with ease
Design-flexibility and timeless beauty
Enhanced light and privacy control
Sophisticated and elegant appeal
Wood Shutters Features
Price Blinds is known for window treatment customization. As such, we offer several additional features for your wood shutters, including:
Various mounts, frames, and panel configurations
Hidden tilts for a subtle, seamless appearance
Several hinge colors to match your home's style
A divider rail to provide split tilt abilities
Motorized louver tilt
Customized Wood Shutters Design
We begin with a thorough consultation at Price Blinds to discuss your wood shutters aspirations. We take detailed measurements and provide an array of samples to guide you in your decision, helping you find the perfect finish, features, and match for your home, ensuring you receive a quality wood shutters installation that exceeds your expectations.
Wood Shutters Installation and Repair
With meticulous care and precision, our experts handle every aspect of the wood shutters installation process, ensuring a seamless fit that offers optimal performance and style. Our team ensures accurate mounting and configuration that integrates with your existing window treatments. Furthermore, we offer trusted repairs should your wood shutters become damaged or impacted by wear and tear.
Are Wood Shutters Easy to Install?
While wood shutters installation is not inherently challenging, it does require the expertise and knowledge of trusted professionals. That's why customers in Fredericksburg, VA rely on Price Blinds. Our team arrives fully equipped and ready to provide a prompt and efficient wood shutters installation that exudes performance and beauty.
What Are Wood Shutters?
Made from premium hardwood, wood shutters are an elegant window treatment equipped with adjustable louvers that permit homeowners to adjust the privacy and light of their home effortlessly.
What Is The Difference Between PVC and Wood Shutters?
Wood shutters are crafted using only hardwood materials for a classic appeal. In contrast, PVC shutters are made from synthetic polyvinyl chloride materials, making them an economical option that can be made to look similar to other natural materials without the costly price tag.
Why Choose Us?
Price Blinds specializes in various window treatments that take your Fredericksburg, VA home to new heights. With time-honored experience and a track record of delivering high-quality wood shutters, our team is the leading choice for affordable, high-performing, and beautiful window additions that elevate your home value and comfort.
Schedule Your Wood Shutters Installation Today
If you're ready to transform the look and feel of your Fredericksburg, VA home with custom wood shutters that bring elegance, sophistication, and practicality to your home, look no further than Price Blinds. Contact our friendly team today to schedule your consultation and wood shutters installation.
Give Us a Call Today for Your Free Design Consultation