Skip to Content
Window Covering Motorization in Fredericksburg, VA
Industry-Leading Window Motorization Products
Price Blinds offers a vast selection of motorized window products in the Fredericksburg area. These products are the perfect way to adjust the ambiance of any room at the touch of a button. Our programmable features anticipate your needs, so you don't have to lift a finger. Upgrade your window treatment and simplify your life today.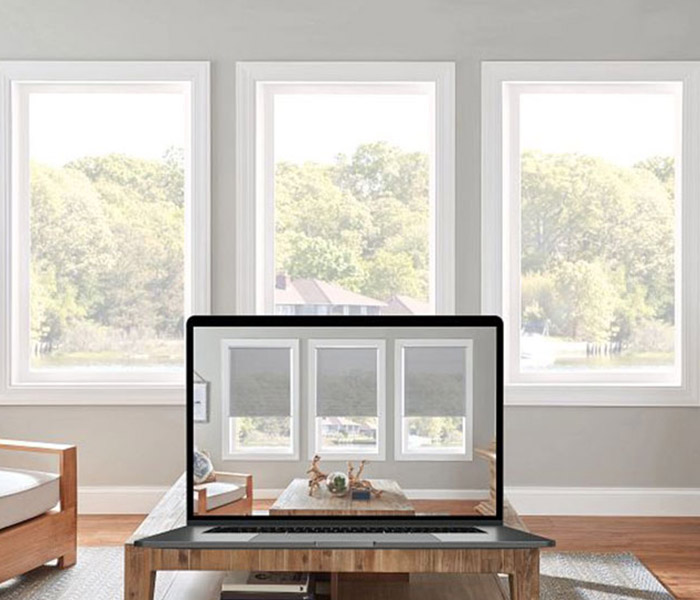 What Are Motorized Windows?
Window motorization is the pinnacle of modern window treatments. Combining seamless functionality with innovative technology and aesthetics, window treatment motorization allows users to remotely control their shades, blinds, and beyond for effortless access to natural lighting, heightened privacy, and greater energy efficiency.
Why You Need Window Motorization Products
From letting the sunlight in for sunrise to creating shade in the late afternoon or achieving greater privacy at night, our window treatment motorization options can accommodate any room in your home, bringing unrivaled comfort. Furthermore, window motorization products can be programmed via your smartphone, facilitating access to your home's controls.
Experience Remote Access to Windows
With blinds, shades, and drapery motorization, you can experience the convenience of remote access, allowing you to adjust your window treatments no matter your location. Whether relaxing on the sofa and not wanting to get up or busy in another room, your smartphone serves as your control panel, giving you full control in the most seamless manner.
The Benefits of Window Motorization Products
Many benefits are associated with window treatment motorization, making them an excellent addition to any home. Some of our favorite benefits include:
No cords, making a safer environment for pets and children
Great for hard-to-reach windows or complete glass walls
Enhanced insulation and minimized heat
Energy-efficient and cost-effective
Versatile with several control options
The Range of Window Motorization Products Available
As leading in window motorization products, Price Blinds boasts an incredible selection of motorization technologies to choose from, including:
Window shades
Roller screens
Mini blinds
Roller blinds
Solar screens
Personalized Blind, Drapery, and Shade Motorization
Our window motorization products can be added to just about any of our high-quality products, including our impressive selection of Graber, Hunter Douglas, Comfortex, and Lafayette Interior Fashion Products. Whether you choose shade, blind, or drapery motorization, we ensure an elevated experience for our customers.
Window Motorization Installation
Price Blinds offers a hassle-free window motorization experience. Our experts will work with you to determine your requirements and aesthetic goals to create the most suitable solution. We then handle every aspect of installation, ensuring seamless integration of your window motorization products with minimal maintenance demands so you can live in optimal comfort for years to come.
Why Choose Price Blinds
Combining our commitment to unparalleled quality, customer satisfaction, and personalized services you can rely on, we have secured our name as Fredericksburg, VA's leading provider of motorized window products. We are committed to the highest level of craftsmanship, careful attention to detail, and unrivaled materials to ensure superior performance and longevity for our customers.
How Much Does it Cost to Motorize Existing Blinds?
There is no set price when it comes to motorizing existing blinds, as the cost will vary depending on several factors, including the type of blinds, the size of your blinds, and the control options you wish to implement. For more information, contact our experts to set up a consultation.
Can Manual Blinds be Converted to Motorized Blinds?
At Price Blinds, we offer retrofit window motorization options that allow you to motorize your manual blinds. This process is fairly simple, as our experts are well-versed in easily mounting a motor and control panel into manual blinds.
What Are Motorized Window Treatments?
To put it briefly, motorized window treatments consist of blinds, shades, drapes, or curtains connected to a motorized operating system that offers effortless control and adjustment of your window treatments without needing manual operations. Window treatment motorization can be controlled via smart home integration, your smartphone, remotes, or a switch on the wall, depending on your preferences.
Contact Our Team to Simplify Your Windows
Out motorized operating systems are the perfect solution for anyone looking to create a comfortable atmosphere easily. If you're ready to boost your home value, privacy, and comfort with our window motorization products, contact our friendly team today to schedule a consultation with our installation experts.
Give Us a Call Today for Your Free Design Consultation