Skip to Content
COMPLETE YOUR HOME WITH ROLLER SCREENS IN FREDERICKSBURG, VA
As a Fredericksburg window blind company, we offer all the best name-brand roller screens to local home and business owners. Our high-quality interior and exterior roller screens come in a wide range of fabrics and materials, ranging from see-through to blackout. For instance, you can choose a designer screen shade for interior use if you need a clean, modern look for your office building. Or, choose exterior roller screens for the patio area of your Fredericksburg home.
Since we are a local window treatment company, we also offer measuring, installation, and repair. Plus, we can help you with the design advice you may need to choose the right fabrics, style, and operating system. Give us a call today if you'd like to take a look at our roller screens for your home or business in the Fredericksburg area.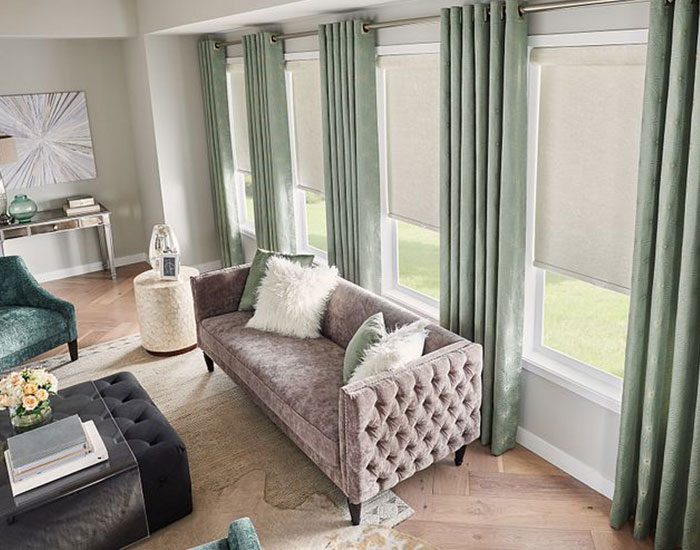 Interior Solar Screens
Interior solar screens are available in a wide range of fabric selections, which range from the thicker window shade style for more privacy and light control to the full-view opaque fabrics that preserve the view. For instance, our Solera® Soft Shades from Hunter Douglas offer a softer, thicker shade made with modern woven and non-woven fabrics. They provide a fluid, sculpted look for both light-filtering and room-darkening goals.
You can get them with internal lift cords for a cleaner and more modern look. This option is for child and pet safety.
Large Selection to Pick From
Choose from a wide variety of woven and non-woven fabrics, colors, textures, and patterns with our interior solar screens. Operation systems are also available. The Top-Down/Bottom-Up design option gives you top-down and bottom-up control.
The cellular construction of Solera interior solar screens improves the heat protection to help lower the energy it takes to heat and cool your home. It can also help with reducing outside noise.
Orientation: Horizontal
Cell Size: 4″
Widths: 16″ – 135″
Heights: 15″ – 108″
Designer Screen Shades
Designer Screen Shades are available from Hunter Douglas as well. They offer a more modern fabric selection and provide excellent UV protection. They maintain your view of the outdoors while ensuring the area stays shaded. Our Designer Screen Shades come in a wide range of styles in fabrics that convey a sophisticated look while adding light control, color, and style. Many of our customers want them to shade interior areas, including sliding glass door areas leading to the patio or sunroom.
Orientation: Horizontal
Widths: 12″ – 192″
Heights: 12″ – 144″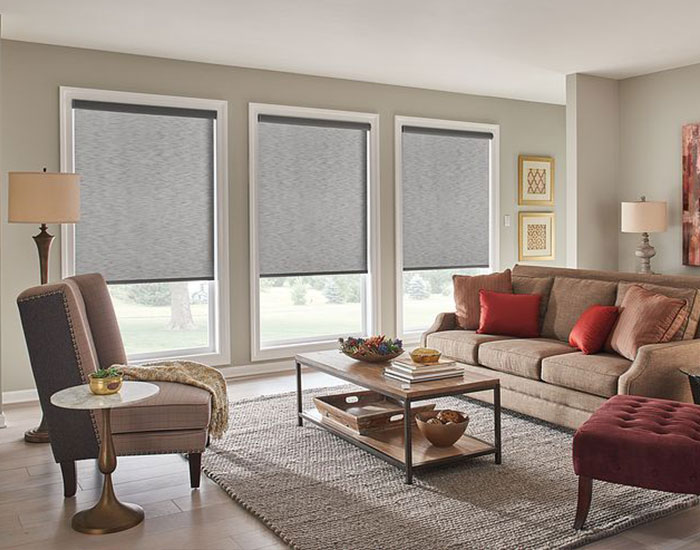 Roller Screens
You'll love the modern style and durability of our interior and exterior solar screens. We can help you make a selection from our range of roller screens and solar roller shades so that you have excellent light control and protection wherever you need it. The fabrics and materials are durable and offered in a wide range of screen fabrics, which let you see through to the other side. Keep the view, protect the area with shade, and enjoy the day!
They're the perfect choice if you need to reduce glare, add shade, or protect a patio area or porch from insects. Plus, they protect the interior of your house, including the floors and furniture, from UV light fading.
Exterior Solar Screens
Do you need a solution for a patio or porch area exposed to direct sunlight, or are there rooms in the house that get overheated every afternoon until the sun sets again? If you need to manage sunlight exposure, there's no better way than to install exterior solar screens. We offer high-quality exterior solar screens from Hunter Douglas® made for commercial use. They're an excellent option for residents too, and we can offer them at wholesale prices.
Our Polar Screen brand is the perfect solution for broader and larger openings. They have weather-rated fabrics that provide superior performance and reliable operation. Full motorization systems can be installed for easy raising, lowering, and adjusting our Polar Screens and other solar screens.
Give Us a Call Today for Your Free Design Consultation