Skip to Content
Honeycomb, Cellular Shades in Fredericksburg, VA
Honeycomb, Cellular Shades installation
Honeycomb shades, or cellular shades, have become more and more popular over the years due to their beauty, durability, and energy efficiency. They are made of a fabric constructed in a honeycomb shape, which traps air inside their cells to guard against heat and cold. They offer superior insulation over other types of window shades. At Price Blinds, we carry various window treatments in many styles, colors, and fabrics, including cellular shades. Our experienced design team can help you create a vision for your home's window treatments and find the best type of window covering for your needs and budget. We offer complimentary in-home design consultations and professional installation of honeycomb shades in Fredericksburg, VA. Call us today to schedule a consultation or request an estimate.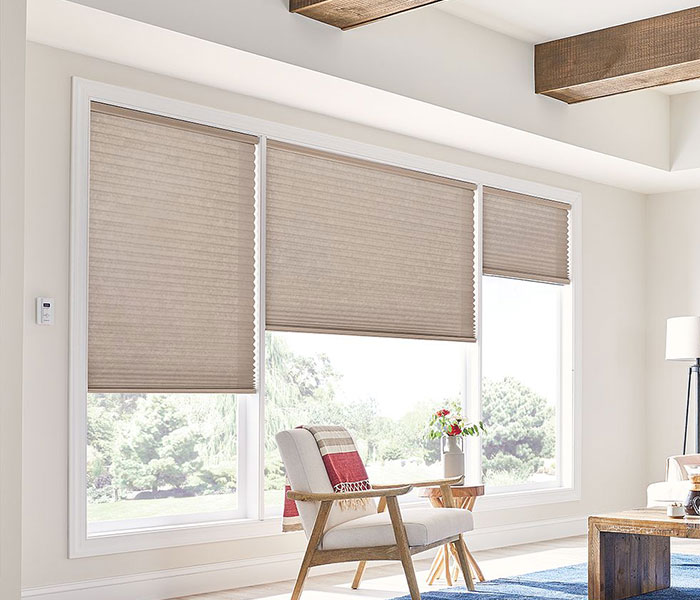 Benefits of Installing Honeycomb Cellular Shades
Homeowners have so many different options to choose from when it comes to window coverings. Luckily, that means it's easy to find the perfect window treatment for your interior decor, personal aesthetic, and budget. Honeycomb cellular shades offer many advantages over other window treatments. In addition to being perfect for every climate and reducing uncomfortable drafts, they also offer these benefits:
Exceptional light filtering and light blocking abilities.
Superior insulation so that they prevent heat loss or heat transfer.
Eco-friendly and energy efficient, and can lower your heating and cooling costs.
Noise reduction abilities.
Lower energy costs.
Cordless and motorized honeycomb shades protect children and pets from injury.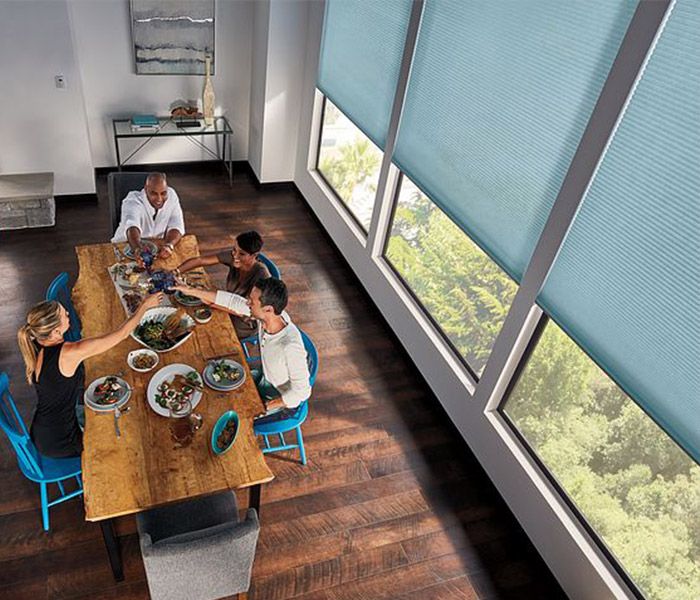 Our Honeycomb Window Shade Options
We are happy to show you our portfolio and samples of the different types of honeycomb window shades we carry. We carry honeycomb shades from Graber, Hunter Douglas, Comfortex, and Lafayette Interior Fashions Products, all of which are beautiful, durable, low-maintenance, and energy-efficient. They are available in different fabrics, colors, designs, styles, and pleat sizes. You can choose between these options:
Honeycomb cordless shades from Graber.
Honeycomb shades for sliding glass doors.
Vertical honeycomb shades.
Our Process for Installing Honeycomb Shades for Windows
We want you to be able to make an informed decision about the type of window treatments that are best for your home. That is why we start our customer relationships from a position of trust. We will work closely with you to identify your needs and goals, assess your space, and determine what type of window treatment is best for you. Take a look at our process for installing honeycomb shades for windows:
Initial in-home consultation – We always begin with a free in-home consultation. This lets you get to know us and confirm that we are the right company. Our experienced design team will work with you to understand your full vision for your home's interior decor. We will review the completed projects in our gallery, discuss your options for window treatments, and give you as much information as possible to choose the perfect window coverings for your home.
Design options and samples – Honeycomb shades are available in many styles, colors, and materials. We are happy to provide examples of your design options and samples of window coverings and materials. This will help you understand how your honeycomb shades will look in your home.
Care and maintenance – Finally, we will go over the proper care and maintenance for your cellular honeycomb shades so that you can preserve their beauty and function.
Measurements and mock-up – When you have chosen the perfect honeycomb shades for your windows, we will take all the necessary measurements. We can also create a digital design mock-up so that you can see how the finished product will look in your home.
Professional installation – Then, we will schedule a date and time for professional installation. Our installation team has years of experience and is committed to punctuality, professionalism, quality work, and exceptional customer service. We work efficiently to minimize the disruption to your home but offer amazing, professional results. Our professional installation of cellular honeycomb shades ensures they look great, function properly, and last for years.
Care and Maintenance of Cellular Honeycomb Shades
Our team offers more than just sales and installation. We also offer complimentary design consultations and window treatment service and repair. We can help you extend the lifespan and performance of your window coverings with our professional upkeep. When you care for and maintain your cellular honeycomb shades, you can extend their lifespan and preserve their beauty, safety, and functionality. Follow these tips for properly caring for your honeycomb window shades:
Dust your shades carefully every two weeks. You can use a can of compressed air or a feather duster to get dust and dead bugs off of the shades. You can also use a dry microfiber cloth to clean the plastic components of the shade.
Use the brush attachment on your vacuum cleaner to remove stubborn dust or dirt, or if you haven't cleaned your shades in a while. Use a low setting to avoid deforming the shades.
Be careful about what types of cleaners or stain removers you use on the fabric of your honeycomb shades. The wrong cleaners can stain or discolor the shades. Use a mild detergent diluted in warm water and apply it to a washcloth or rag to dab at the stained areas. Don't rub forcefully, or you will deform the fabric or cause it to pill.
For more serious issues, call our professionals for expert honeycomb shade cleaning.
Schedule a Consultation for Honeycomb Shade Installation
Call us today or contact us online to schedule a free consultation for honeycomb shade installation in Fredericksburg, VA. A design team member will provide a free, in-home consultation to discuss your needs and budget and provide samples of our honeycomb shade design options.
Give Us a Call Today for Your Free Design Consultation