Skip to Content
Roller Shades for Windows in Fredericksburg, VA
Beautify Your Home With Roller Shades
Roller shades are both functional and beautiful, available in a wide range of styles, designs, colors, and materials. They are popular because they are low-maintenance, incredibly durable, and easy to install and operate. At Price Blinds, we carry window coverings from top brands and manufacturers. We are committed to providing quality products and professional installation. We offer free in-home design consultations, professional measuring and expert installation, and window treatment cleaning and repairs. We are happy to show you samples of our roller shades for windows in Fredericksburg, VA so you can choose the perfect style, design, and color for your home. Call us today to schedule a free consultation or request an estimate for installing roll-up window shades.
Differences Between Window Shades and Roller Shades
Roller shades are a very simple, affordable, and minimalist type of window treatment. Rather than having cells, slats, or veins, they are constructed from a solid sheet of material that rolls up onto a rod installed at the top of the window. They are typically operated by pulling down on the bottom of the shade. Still, motorized roller shades can be operated by pressing a button, a remote, or even a smartphone app. They are popular because they are so simple and unobtrusive, but they can also be used as a secondary privacy or light-blocking option underneath curtains or drapes.
Other popular window shades may not be as simple or clean as roll-up ones, but they offer other unique advantages. Ultimately, the type of window covering you choose will depend on your personal style preferences, goals and needs, existing interior decor, and budget. The most popular home window coverings are:
Window blinds – Window blinds have long been a common choice for home and property owners. They are low-cost, simple to install, and available in various materials and colors. You can choose from wood, faux wood, vinyl, plastic, and aluminum blinds.
Cellular shades – Cellular shades, or honeycomb shades, use a honeycomb design to filter light and insulate the windows. They are energy efficient and offer privacy, style, light control, and lower energy costs. They are available in many colors, materials, and designs.
Shutters – Shutters are panels of different sizes and styles that can be installed inside or outside the home to offer privacy, insulation, light control, and security. They may be slatted, louvered, or flat. They protect windows from damage and lower window maintenance costs. They are available in various colors, styles, designs, and materials.
Draperies – Drapes are cloth panels installed on each side of the window. They can be pulled open and closed manually, or you can install motorized drapes. They are available in different materials, colors, patterns, sizes, and styles.
Screens – Window screens are installed on the interior or exterior of windows to offer privacy, light control, and solar protection. They have insulating and energy-efficient properties and can be controlled by rolling them up and down, or they can be motorized or automatic. They range from mesh or see-through options to complete blackout shades and are available in different sizes, colors, styles, and materials.
Motorized window treatments – Motorized window treatments are easy to operate and reduce the risk of injury to children and pets. They can be controlled with a remote, button, or smartphone app. You can choose from motorized blinds, roller blinds, shades, screens, and solar screens.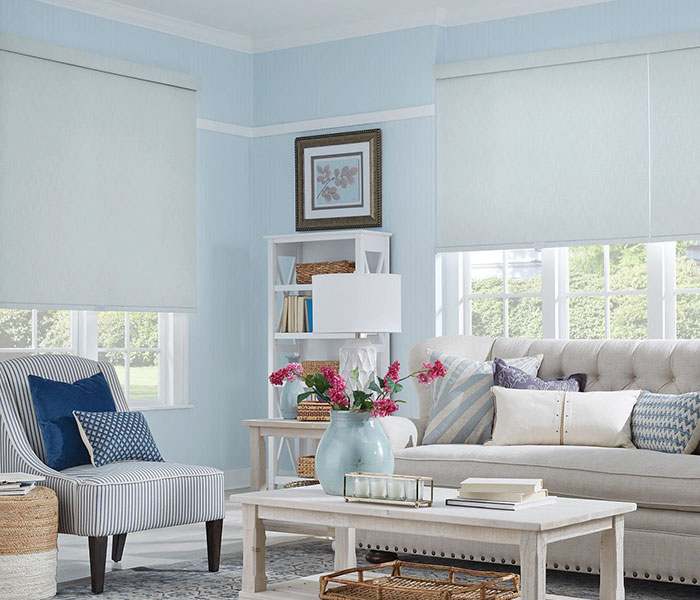 Installation of Indoor and Outdoor Roller Shades
We can install indoor and outdoor roller shades quickly and efficiently. Our professional installation team has years of experience and is committed to quality workmanship and exceptional customer service. We start with a free, no-obligation in-home consultation with our design team. They can show you our portfolio, provide samples of our window coverings, and help you choose the perfect type of window treatment for your needs, goals, and budget. We will then take measurements and schedule a date and time for professional installation. All roll-up window shades are custom-made to your specific needs and measurements, and installation is done professionally and precisely. When installation is complete, we will provide instructions on caring for and maintaining your roller shades.
Benefits of Roll-Up Window Shades
There are many reasons homeowners and property owners choose roll-up window shades. Their simple design, construction, and clean lines make them ideal for any interior decor. They can be easily customized to add flair or kept neutral to blend into the background. They can be used with other window coverings to create multi-layered privacy and light control options. Take a look at these benefits of installing roll-up shades for windows:
Incredibly affordable and cost-effective.
East to clean and care for.
Durable and can withstand daily wear and tear.
Safe for homes with small children, pets, and vulnerable adults.
Can be automated or motorized for safer, easier use.
Have insulating properties that keep your home comfortable and lower energy bills.
Take up less space and are less obtrusive than other window treatments.
Blend in with minimalist design and decor.
Available in different opacities, materials, colors, and designs.
Protect your home from harmful UV rays.
Won't fade or discolor.
Offer superior privacy control.
Care and Maintenance of Roll-Up Shades for Windows
By properly caring for and maintaining roll-up shades for windows, you can extend their lifespan, ensure they function properly, and preserve their beauty. Follow these tips for proper care and maintenance:
Vinyl roller shades can be wiped down with warm, soapy water and a microfiber cloth. Use a
Fabric roller shades should only be dusted and never cleaned with water, detergents, or chemicals. You can also gently use the brush attachment on your vacuum cleaner to remove dust and dead bugs.
If your shades require more care than dusting and light cleaning, call our team of professionals for expert service and repair.
Schedule a Consultation for Roller Shade Installation
Whether you have just moved into a new home, are completing new construction, or are completing a renovation or redesign, we have the perfect window treatments for you. Call us today or contact us online to schedule a free in-home consultation for roller shade installation in Fredericksburg, VA. We'll work closely with you to find the perfect option for your needs, vision, and budget.
Give Us a Call Today for Your Free Design Consultation