Skip to Content
Kids Safe Blinds & Shades in Fredericksburg
Blinds and Shades That Are Safer for Kids
Your home may seem safe enough, but once you have kids it can suddenly feel like a death trap. Hazards lurk around every corner, and parents must examine every single room to make sure their children will be safe. Even choosing kids' window treatments is stressful, because there's so much to consider aside from the aesthetic appeal of your options. Traditionally, blinds and shades have been safety hazards for children, but now there are plenty of child-safe window treatments from which to choose.
What makes window blinds unsafe for kids? They pose a few different problems. For one thing, they have components in their lift mechanisms that are safe for adults but extremely hazardous for kids. Traditional blinds and shades hang loosely, where little hands can easily pull them, but the most dangerous thing about them is the dangling cords. Did you know that according to the United States Consumer Product Safety Commission, strangulation from window treatment cords is one of the top five hidden hazards in the home? This is far too serious to be ignored. Fortunately, today's window treatments come in a variety of options designed to be child-friendly, without the exposed and hanging cord.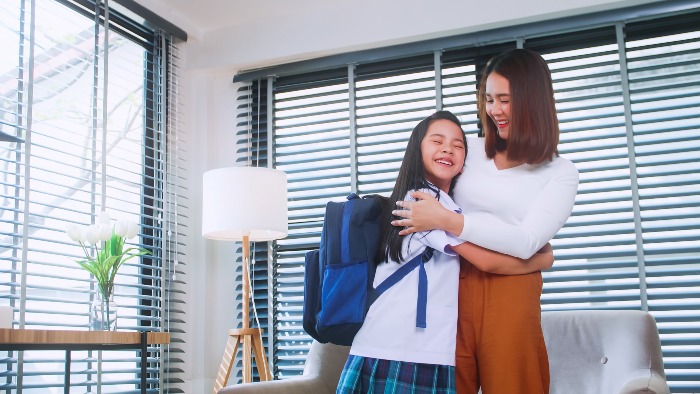 How can window blinds be made child safe?
When you're trying to outfit your home with child-proof blinds, you have two different options. You can either use stop-gap measures to make your current window coverings safer for your children, or you can upgrade to window coverings that are designed with child safety in mind. Some people choose to make their existing window coverings safer by looping the exposed cord behind the window covering or adjusting the length of the cords. However, both of these measures leave something to be desired. They can make it more difficult for a child to be injured, but they don't completely eliminate the risk. A better option is to choose child-safe window treatments. The best nursery blinds are cordless blinds, which don't have any cords at all, so you never have to worry that an unattended child will be injured.
Make a safer choice: choose window treatments without accessible cords. This doesn't really limit your options, because even when your first priority is safety, blinds are available in many different styles, to fit just about any décor.
Here are some great options for window treatments with no cords to harm your kids.
Cordless Cellular Shades: These shades are raised and lowered by hand, with the lift cords completely enclosed in the fabric of the shades. Choose a cellular shade that is cordless by default, or customize your shade with a cordless or motorized lift. A motorized lift is among the safest options because it allows for easy operation and often incorporates smart technology, with none of the risks associated with a cord.
Cordless Roller Shades: These are another option that has no cords because they're lifted by simply tugging on the end of the shade. As with cellular shades, these are also available in motorized options, for additional safety.
Interior Shutters: Stylish, with a classic look, shutters don't use any cords at all. They're adjusted by tilting the louvers, or they can be opened completely.
Curtains: Modern curtains don't need cords. Be careful, though, when installing the mounting brackets. They must be attached to a wall stud or firmly secured with wall anchors so that small children can't pull the curtain and dislodge the rod from the wall.
Of course, we understand that you may not be in a position to replace all of your window treatments at once. If you have to make do with what you have for a while, make the decision to make your shades and blinds safer for the children in your home.
Here are some additional childproofing tips to improve window cord safety.
Keep cords out of sight and out of reach. You can use cord cleats to wrap cords and keep them away from kids, or you can order a free window cord retrofit to make your window treatments safer.
Cut your cords. If your cords are long, cut and shorten them so they'll be out of reach. This can be done without interfering with functionality, but when the blinds or shades are fully raised, the cords could still be a hazard.
Prevent access to cords. Move everything away from the windows and window cords that could unintentionally act as a step stool to let your child reach a cord. This includes cribs, beds, furniture, and toys.
Pull it tight! If you have continuous-loop pull cords, make sure they're pulled tight and anchored to the floor or wall, rather than hanging loose.
Properly install your window coverings. Take care to install your cord stops properly and adjust them to restrict movement of the inner cords of blinds and shades.
You may not know it, but new child safety measures have recently been put into place. The Window Covering Manufacturers Association (WCMA) set new standards for child safety, which went into effect on December 15, 2018. These new safety regulations state that cords on custom-made window coverings cannot be longer than 40 percent of the height of the window covering unless specifically requested by the customer. When you're shopping for shades, choose a window treatment company that understands these regulations and is compliant.
If you're looking for child-safe window treatments, shop with a window treatment company that cares. A family-owned company, Price Blinds has been serving the Fredericksburg area for 25 years, providing high-quality custom shutters, window blinds, shades, solar shades for windows, and other window treatments. We're proud to carry products custom-made by leading manufacturers, and our focus is on providing personalized service to each of our customers. In addition to providing free in-home design consultations and window measuring, expert installation, and window service & repair, we also offer financing options to help our customers get what they need.
For a fully customized shopping experience and great service the next time you're buying window coverings, call 703-520-6458 or contact us through our website today.
Give Us a Call Today for Your Free Design Consultation